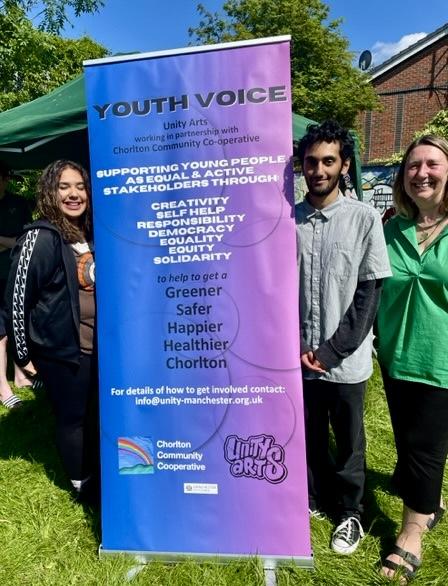 Drawing on funding from Manchester City Council's Youth Play and Participation Investment Fund, Unity Arts will be supporting Chorlton Community Cooperative to engage young people as equal and active stakeholders.
Unity will use a full range of youth work principles, methods and tools to engage young people who live, go to school and socialise in Chorlton, and will support their development as active citizens.
This work will aim to develop young people's understanding of the Cooperative's values of:
Self help
Responsibility
Democracy
Equality
Equity
Solidarity
and will explore with them their aspirations for their neighbourhood, enabling their ideas to thrive.
This process will aim to develop an environment and culture where young people can be innovative and creative for themselves and their peers, as well as within the wider Chorlton Community Cooperative.
The work will be undertaken with Youth work organisations,  uniformed organisations,  a range of smaller youth 'activity' groups, schools and individuals. The first major milestone for this work will be the Chorlton Get Together in September 2023.
The Youth Voice project was out and about recently talking with young people about safety in green spaces and parks in Chorlton (pictured).